___________________________________________

The most powerful Force Wielder of all time:

http://www.killermovies.com/forums/f6/t508764.html


POWERS AND ABILITIES:

"Pertaining to whether Sidious is right-handed or left-handed with a lightsaber, he's ambidextrous. He's just that good. Sidious' abilities are beyond anything we've experienced. It took a really long time for Nick (Gillard) to work out Sidious' fighting style, and he has a style that's constantly changing. His style is one in which you'll never get the better of him. It is ambiguous --- he'll fight less than you and draw you in; you're a sucker if you think you're going to better him. Sidious is a master of every weapon and every style."
- Gillard comments on Darth Sidious's lightsaber form.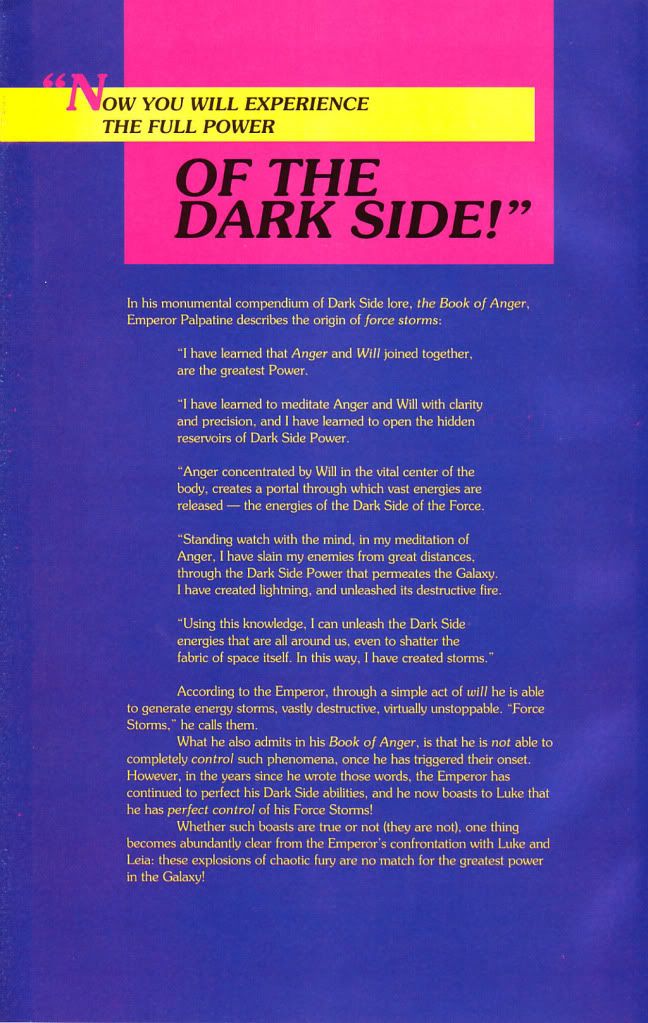 Upon spending decades immersing himself in the many facets of the Force, it is believed he has a mastery over all known powers, previously unknown powers, and creates new abilities at his leisure.


The Emperor levitating with an electric shield while while tossing electrically combustible debris at Galen Marek with force lightning, using force lightning while turned around facing the other direction, and then crushing Galen Marek with a space craft.



"Do not underestimate the power of the Emperor!"



Torturing Luke with purple Sith Lightning.



Palpatine's Force Storm/Wormhole
http://i476.photobucket.com/albums/rr123/Titan_Darkseid/Wormhole1.jpg
http://i476.photobucket.com/albums/rr123/Titan_Darkseid/Wormhole2.jpg
http://i476.photobucket.com/albums/rr123/Titan_Darkseid/Wormhole3.jpg
http://i476.photobucket.com/albums/rr123/Titan_Darkseid/Wormhole4.jpg

Sidious has become even more powerful.

http://img246.imageshack.us/img246/6039/picture069x.jpg
http://img708.imageshack.us/img708/2718/picture070.jpg

http://img34.imageshack.us/img34/6118/picture071x.jpg
http://img695.imageshack.us/img695/3807/picture072pl.jpg
http://img23.imageshack.us/img23/1760/picture073ns.jpg
http://img44.imageshack.us/img44/3503/picture074uy.jpg

Sidious bursting Leia's lightsaber hilt with the Force.

http://img9.imageshack.us/img9/4599/picture075qw.jpg

Darth Sidious demonstrating instant kill Sith Lightning and Force aided Indestructibility

http://img13.imageshack.us/img13/8338/picture076jx.jpg
http://img9.imageshack.us/img9/4629/picture077uo.jpg


__________________
BUFFER THAN ZEUS/LIGHTER THAN HERMES/STRONGER THAN SUPERMAN


And that's why Goku took him 'em out
Edited 02-09-2010 03:30 PM by Knight_Of_Steel